Companies plan annual goals. Teams plan quarterly goals. This is what a typical OKR planning cycle looks like: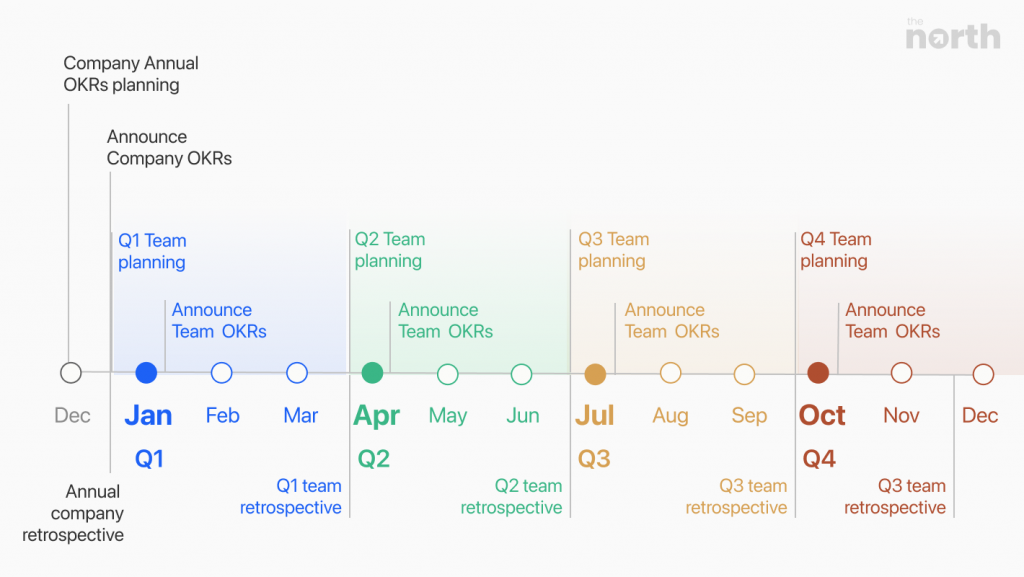 1 MONTH BEFORE YEAR
Company Annual OKRs planning
This is mostly a top-down activity
Senior leaders start thinking about company OKRs. based on the company strategy for the year
15 DAYS BEFORE THE QUARTER
Announce Company OKRs
Senior leaders announce the company OKRs to everyone.
Reaffirm the companies vision and strategy.
Discuss how company goals align to the company strategy.
15 DAYS BEFORE QUARTER
Team quarter planning
As soon as company priorities are made clear
Product teams start thinking about their team OKRs
They try and align their work to company goals and priorities.
WEEK 1 OF THE QUARTER
Announce Team quarter OKRs
Product managers announce team OKRs to everyone
Cross-functions look at each departments OKRs to resolve dependencies
Throughout the quarter, teams measure and share their progress via weekly check-in with their managers.
During check-ins, they assess how likely they are to achieve their OKRs.
If things are flagged behind or at risk, OKRs may need to be reviewd.
15 DAYS BEFORE QUARTER
Team quarter closing and retrospective
Goal and KR owners close quarters OKRs cycle
Add goal outcomes to such as Goal completed, Partial, Missed, or Dropped
Teams do retrospectives on how the quarter went and what were the learnings
10 DAYS BEFORE QUARTER
New team quarter planning
As the new OKR cycle begins
Product managers start thinking about team OKRs to see they need any changes in the new OKR cycle
This cycle continues
15 DAYS BEFORE QUARTER
Company OKRs Quarterly review
Every quarter, senior leaders review the company OKRs
This is to make sure they are still relevant and progress has been made towards them
LAST MONTH, LAST QUARTER
Company OKRs Closing and Retrospective
Senior leaders start thinking about company OKRs. based on the company strategy for the year
---
Our take on Product
On Product discovery
Communicating well
Metrics for Product teams
Telling stories with data
Data visualisation

---
🏔